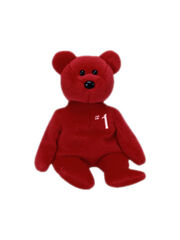 General Info
Edit
Birthday: N/A
Style Number: N/A
Introduced: 12/12/1998
Retired: 12/12/1998
Swing Tag Generation: 5
Tushtag Generation: 6
Number One's Poem
Edit
In appreciation of selling over
several Billion dollars during 1998
and achieving the industry ranking of
Number 1 in Gift sales, Number1 in Collectable sales,
Number 1 in Cash register area sales
Number 1 in Markup %
I present to you
This signed and
Numbered Bear!
Other Info
Edit
Number 1 was a special Beanie Baby only distributed to TY sales executives, thus leading to only 253 being produced, making them fairly rare to obtain. It has been found that many have made false Number 1s, and sold them off as being the real one. This makes it even more difficult to get an original bear, although the real ones sell fairly high. The real ones were signed by Ty Warner himself. Fake bears include a fake tushtag, fake Ty Warner signature, among others.
Appearance
Edit
Number 1 is an original bear model, its color is red and has a #1 on the right side of the chest. On the Swing Tag, it has Ty Warner's signature on one side.